Many are still working remotely given the continuous rise in Covid-19 cases. While working from home has its perks, you are in control of your working schedule and environment for example, it's also challenging.  Reduced supervision and home distractions can adversely affect your productivity. Also, prolonged isolation can have its toll on your physical and mental wellbeing.

So if you're looking for ways on how to stay productive, motivated, and healthy, check out these strategies to help keep you on track.
Designate a Specific Work Area
It's very important to have your specific work area at home because it creates that working environment you need to stay productive. While it might be very tempting to work on the bed or on the couch, you'll likely  lose your motivation and focus because the brain associates these things with rest and sleep. 
Create a home office and set it up with a work desk, an ergonomic chair (if you can have one) or any chair with a good support, and the usual implements at work - these would surely make you feel more focused and organized. Keep it tidy though, a cluttered desk is another distraction that can make you lose your motivation to work.
Establish a Routine
Simulating your office routine and adapting it to your work from home schedule as close as possible would be very helpful. Very much like having regular working hours, prepping up for work in the morning helps you have a productive working day. Having an organized routine that you can repeat on an everyday basis reduces the stress of having to consider and decide what you need to do, this leaves you with a positive mindset and feeling of wellbeing. 
Dress for Work
Clothes can directly influence your behaviour, affect your mood, and overall confidence. What you wear can boost your mental state and enhance your work performance. We can accomplish more when we are properly dressed for the task. In fact, in the 2012 experiment by Hajo Adam and Adam D. Galinsky, on the effect of clothes on a person, clothes affect how people think, feel, and function. So, though working from home in your pajamas, oversized shirt or scruffy cut off jeans and hoodies may sound idyllic, it could negatively affect your productivity and state of mind. 
In the experiment, formal clothes make you feel powerful and in authority. A casual ensemble can enhance your openness and agreeableness. Your exercise gear raises the likelihood of you actually working out and making healthier choices. Even your underclothes can affect your confidence and self image.
Take a Break
If you think working through your break makes you more productive, your performance actually worsens. Skipping on breaks makes you lose your focus and attention. Your mental and physical state deteriorates when you do not take a break and give your body and mind time to recover from the stress of work.
Short breaks like stretching and walking increase productivity. It gives your brain the opportunity to breathe, process your thoughts, and come up with solutions for the tasks at hand.
Listen to Music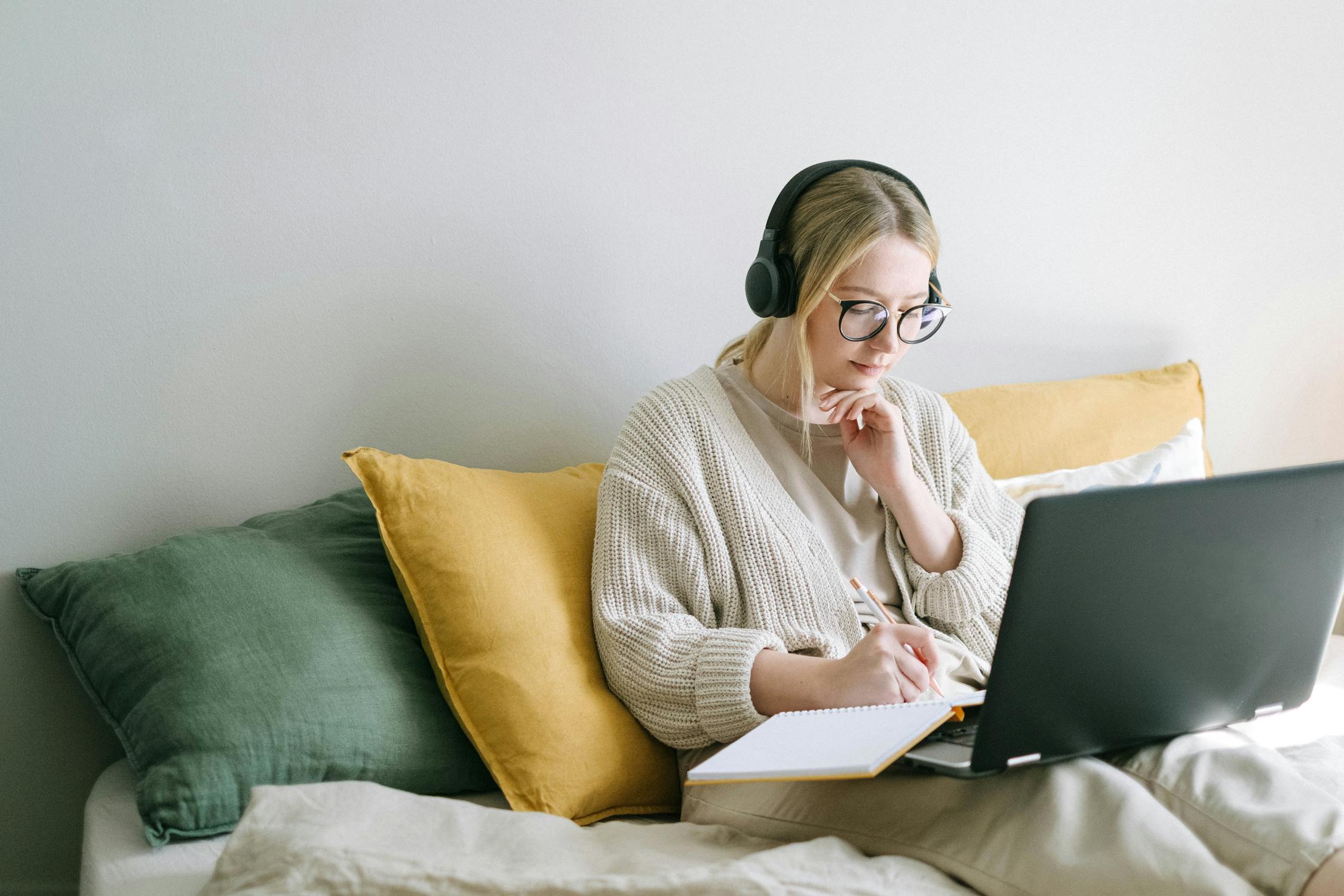 Studies have shown that music can help make repetitive tasks easier, improve your mood, cognitive performance, and productivity. Working from home gives you the opportunity to play the kind of music that gets you going. Working alone, music breaks the monotony of silence and makes for good company.
Socialize
Text and video chats and conference calls connect you to your team when you are working remotely. Communication is important in keeping everyone in sync and helps guarantee that the work is done on time and that productivity is up.
Also, staying connected opens up the chance to look into each other's mental health. While others might be coping well with isolation, the rest might be struggling trying to balance working from home and caring for their families.
Set Boundaries
It's important to set some boundaries and have everyone respect them when working from home, and with children this can be even more challenging. A quick way to let the children know not to disturb you is to close the door of your home office, if you have one, or just leave a do not disturb sign where it can be seen clearly. But children will always be children, a serious talk and constant reminders along the way would be needed, but staying firm gets the message across.
Virtual boundaries are equally important. Let friends and colleagues know when you're free to chat or have a video call so as not to disturb you from working.  
Despite the challenges of working from home, the advantage of keeping yourself and your family safe at this time far outweighs them. And as responsible members of the community, we must play our part in preventing the further spread of COVID-19 by staying home as much as we possibly can.